Real Time Ionizing radiation detector. Located in New York, Tarrytown. 15 Miles south from Indian Point nuclear Power Plant.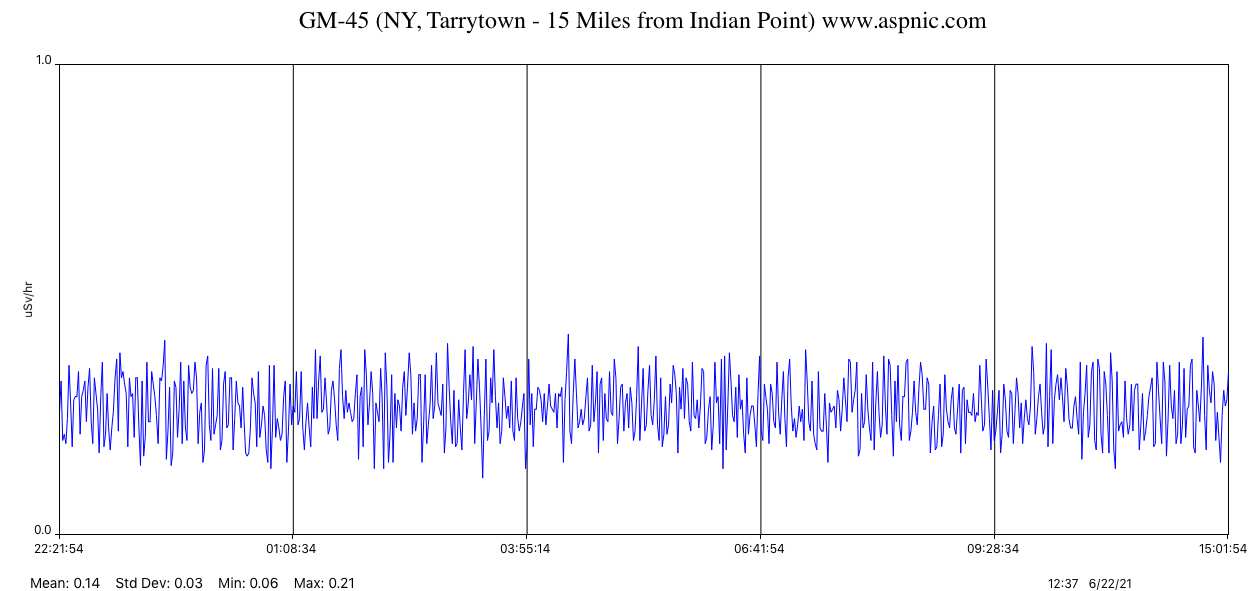 Click
on the image to get detailed view. Readings are in
CPM
using GM-45 Radiation Detector.
(device not certified)
Graph refresh time: 4 min.
Looking at the past data that this GM-45 counter collected, reading under
100 CPM
are normal for this geographical location. (100 CPM is about 1 microsievert per hour) Monitoring unit is located next to a single glass window in basement.
(Geiger Counter) GM-45 technical specifications:
Window: Mica, 1.75 mg/cm2 1.75 inch / 44.5 mm diameter
Radiation detected: Alpha - Above 3 MeV
Beta - Above 50 keV
Gamma / X-Ray - Above 7 keV


GM-45 connected to a Mac Mini running RAD for OSX
Since we moved to Tarrytown few years ago we decided to buy a radiation detector, Indian Point Power Plant is located 15 miles from us.
Radiation Monitoring Networks:
Link
to Google page showing other Ionizing Radiation Detectors in USA.
Link
to another community driven Radiation network in USA.
GM-45 was offline from April 1 to April 3 script that uploads the image to the web server stopped working, it's fixed now.
Stay happy stay safe!